Hutongs, Houhai Lake, Tobacco Alley, and Beihai Park – Beijing Day Four
Monday, October 13th 2008. Today we decided to follow Frommer's recommended "Back Lakes" walking tour of an old Beijing neighborhood. Known as "hutongs," these old neighborhoods were constructed hundreds of years ago and have housed countless generations of Chinese people. The area we toured was fairly close to the Forbidden City, so it was (and still is) a popular neighborhood among China's elite.
Hutong (translated literally as "narrow alley") are usually made of stone. Because the hutongs were constructed before the advent of the automobile, most of the streets are barely wide enough for a small cart. Therefore, it's best to walk. We started at the home of a famous Chinese opera star, Mei Lanfang. It was an interesting stop, but I would suggest you skip it when you visit. Next we walked past one of Beijing's oldest university campuses (also un-interesting) before arriving at Prince Gong's Mansion, known as Gong Wang Fu.
Prince Gong's mansion looked a lot like the Forbidden City from the outside (similar style buildings, etc.), and Sara and I were tempted to skip it. We're quite glad that we decided to go inside. The main buildings were interesting (albeit a repeat of the Forbidden Palace), but the garden behind the buildings was absolutely stunning. Incredible rock and water features, beautiful plants, and even animal life. It was truly an oasis in an otherwise crowded and polluted city.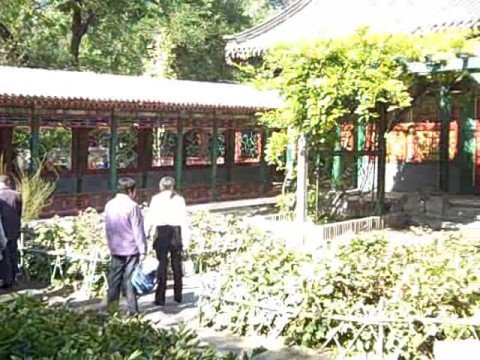 I highly recommend you visit Prince Gong's mansion to visit the garden, but if you're like Sara and I you'll also enjoy seeing the spectacle of Chinese people having their picture taken with a life-size Chinese character (see below). The character means "good fortune" in Chinese, and it's believed that having your picture taken with this character (or even having a picture of it) will bring you luck and happiness.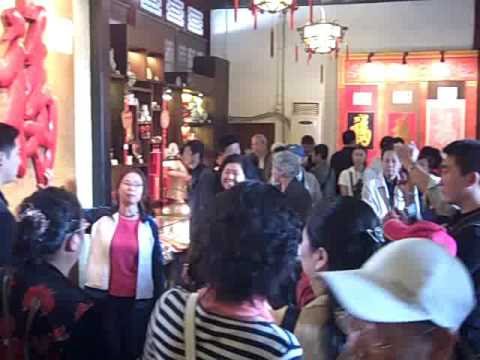 We also ran into another superstitious situation – while walking up a steep walkway to a small temple of some sort, I was nearly over-ran by a tour group running up this same walkway. Evidently, it's good luck to run in this situation.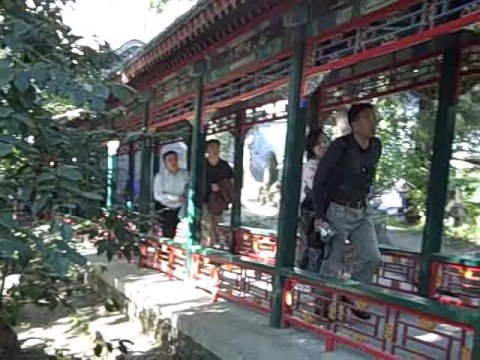 After visiting Prince Gong's Palace, we walked through more hutong. Beijing is very much a city under construction, and it was fascinating to see workers adding electricity, plumbing, air conditioning, and other modern conveniences to a stone neighborhood hundreds of years old. While this particular area wasn't truly representative of a "real" Chinese neighborhood, it was still very interesting to see.
We ended up at Houhai Lake halfway through the day, just in time to witness the zany action at Wild Duck Island. While it sounds exciting, it's a great example of a complete cultural breakdown between China and the West. While the Chinese view this island as a "commitment to nature," most westerners would likely see a small grouping of trash (carpet, wooden pallets, and other flotsam) assembled in such a way as to provide refuge to a very small collection of "wild ducks." It's this type of attempt at environmentalism that illustrates the disparity between Eastern and Western attitudes about nature and preservation. That and the ever-present Beijing smog, of course.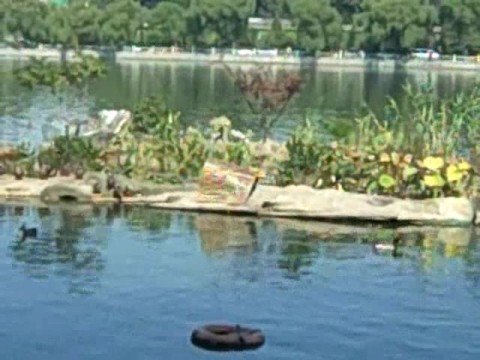 After walking around Houhai Lake and strolling through Tobacco Alley (a trendy restaurant area), we finished our day of touring at Beihai park. Beihai offered a glimpse of real Beijing life. School groups were on a field trip, and the kids were so cute that Sara remarked often about "taking one of those home with us." They would always wave and yell "Hello!" at us when we walked by. They also enjoyed peeing in the park in plain view of everyone.
Hilarious and cute to be sure. We also saw regular people enjoying the park – old folks demonstrated the Chinese version "power walking," families and friends assembled to sing songs, play games, and have a good time.
View of the White Dagoba upon the top of the Jade Islet, Beihai park, Beijing.
The best part of Beihai park was the Jade Islet on the south end of the lake. It was topped by a large Buddhist Dagoba, and inside was a group of caves dedicated to the 12 Daoist spirits. While Sara was uncomfortable visiting the caves, I found the experience to be spectacular. The scenery surrounding the islet was magnificent, and the general mood in the park was calm. While most tourist parks (such as the Summer Palace) are just as beautiful and inspiring, Beihai park lacked the hustle and bustle of a tourist attraction. We also felt like Beihai offered insight into normal Chinese life.
Giant water lilies – at least 4 feet tall – covered the southern part of the lake and made for a very calm experience.
If you visit Beijing, I would recommend you add Beihai to your itinerary.